Thermal Spray Systems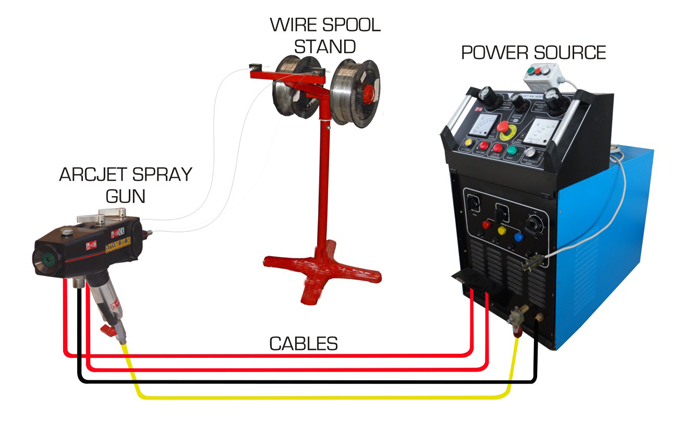 ARCJET 96 ®
The ARCJET-96 Gun is light and easy to use. It has simple adjustments and requires minimal maintenance.
Closed Nozzle System to ensure high bond strength and finespray.
Pull Wire Feed System by Air Motor (1000 RPM for high melting wires and 2500 RPM for low melting wires).
Forced air-cooled arc-head (patented) to keep air cap, nozzle positioner and spray head cool, thus preventing overheating at high amperes.
Compressed air requirement: 35 CFM FAD at 60-80 psig (5bar).
| Description | Value |
| --- | --- |
| Weight | 3.5 Kg |
| Size | L - 425mm, W - 125mm, H - 200mm |
| Drive | Pneumatic Motor |
Arcjet Power Source
New technology for power supply in combination with highly accurate wire feed and modified air cap geometry.
Allows controlled and uniform energy transfer onto the wire being sprayed.
Flexible energy transfer based on application.
Top tilt opening for easy access of control card.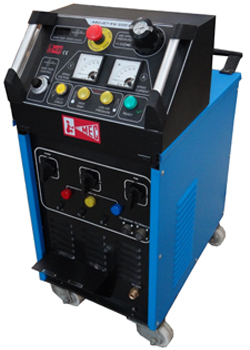 ---
POWDERJET ® 86
| | |
| --- | --- |
| Powder Feed | By Powder Feeder |
| Powder Feeder | Separate powder feeder Required (PF-700) |
| Net Weight | 1.6 Kg. |
| Consist of | Spray Gun, Powder feeder, Gas flow meter, Gas control unit, Cooling wand, Hose Unit, Air Control Unit |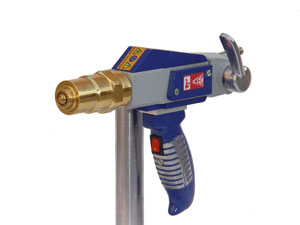 POWDERJET ® 85
| | |
| --- | --- |
| Powder Feed | By Gravity |
| Powder Feeder | Onbuilt Powder Hopper |
| Net Weight | 2.2Kg. |
| Consist of | Spray Gun, Gas flow meter, Gas control unit, Cooling wand, Hose Unit |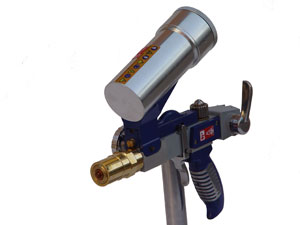 SPRAYTORCH ® 100
| | |
| --- | --- |
| Powder Feed | By Gravity |
| Powder Feeder | Onbuilt Powder Hopper |
| Net Weight | 1.5 Kg. |
| Consist of | Spray Gun, Gas flow meter, Gas control unit, Hose Unit. |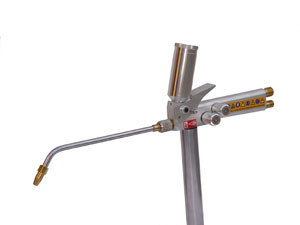 Rod Flame Spray System
RODOJET ® 9810
| | |
| --- | --- |
| Rod Feed | By Electric Motor |
| Gases Used | Oxygen & Acetylene |
| Net Weight | 2.0 Kg. |
| Consist of | Spray Gun, Control Console, Gas flow meter, Gas Control Unit, Air Control Unit |
Wire Flame Spray System
SPRAYJET ® 87
| | |
| --- | --- |
| Wire Size | 3.17 mm Std.(other sizes optional) |
| Wire Feed | Air Turbine (pneumatic) |
| Gases Used | Oxygen , LPG , Propane |
| Net Weight | 2.27 Kg. |
| Consist of | Spray Gun, Gas flow meter, Gas control unit, Cooling wand, Hose Unit |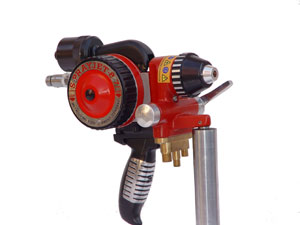 SPRAYJET ® 88
| | |
| --- | --- |
| Wire Size | 3.17 mm Std.(other sizes optional) |
| Wire Feed | Air Turbine (pneumatic) |
| Gases Used | Oxygen , Acetylene,LPG |
| Net Weight | 2.65 Kg |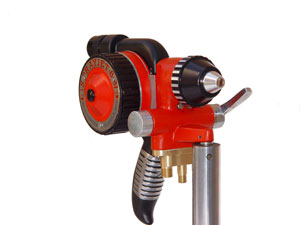 SPRAYJET ® 98
| | |
| --- | --- |
| Wire Size | 3.17 mm Std.(other sizes optional) |
| Wire Feed | Air Turbine (pneumatic) |
| Gases Used | Oxygen , LPG ,Propane |
| Net Weight | 2.65 Kg. |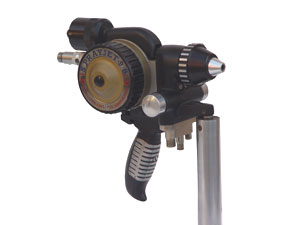 SPRAYJET ® EL
| | |
| --- | --- |
| Wire Size | 3.17 mm Std. (other sizes optional) |
| Wire Feed | Electric Motor |
| Gases Used | Oxygen, Acetylene, Propane, LPG |