Overview
All standard models of Portable Abrasive Blaster are available with and without Remote Control Version.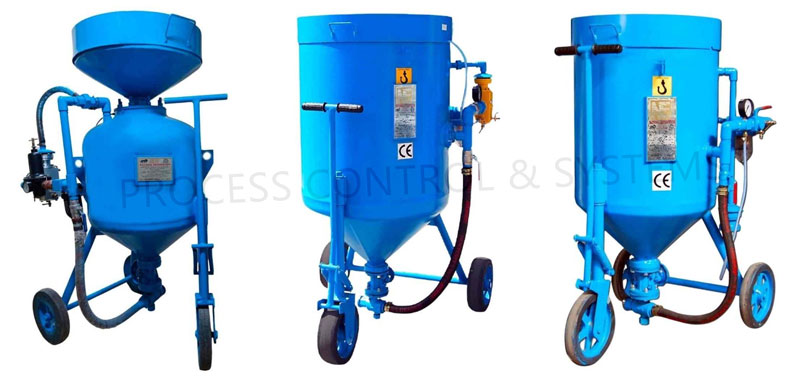 In five standard models having cleaning rates from 3 to 20 sq-meter/hr.Tungsten carbide venturi nozzles in 5mm, 6mm, 8mm, 10mm, 12mm bore. Air requirement varies as per the model from 45 cfm to 250 cfm at 80 psi.
Automatic Filling Value: The machine is provided with an automatic mushroom valve (Filling Valve) for quick refilling of abrasive.
Tungsten Carbide Venturi Nozzle: The long & short series convergent-divergent tungsten carbide lined blasting nozzle ensures high velocity, eventually distributed blast pattern & higher blasting output, and provides lower wear, longer life, and greater resistance against breakage.
Blast Hose: The blast hose is highly abrasion resistant with an improved mixing valve outlet for longer life, high flexibility with a lower bend radius & lightweight and electrically antistatic for safe operation.
Abrasive Control Valve: The machine is fitted with a pinch valve and a hand wheel to control the abrasive flow through the blast nozzle.
Abrasive Sieving: A wire screen is fitted with a pneumatic vibrator to sieve abrasive to avoid blast line choking.
Abrasive Tank Construction: The abrasive tank is fabricated from a tested quality steel plate in accordance with IS-2825 and hydraulically tested at 250 psi.
Automatic Exhaust Valve: It vents outlet air, and thereby machine is depressurised instantly. The valve opens automatically with a stop of air supply to the machine and vice-versa.
Air Filter & Pressure Gauge: An online air filter and a pressure gauge are provided.
Ball Valve: The machine is fitted with a ball valve having stainless steel ball (An anti-corrosive material) to ensure full airflow without pressure loss.
Technical Specification:
P7 - 150
P7 - 301R
P7 - 501R
P7 - 601R
P7 - 1001R
P7 - 901R
(with dual outlet)
Abraisive Capacity
Metalic (Kg.)
Sand (Kg.)
Volume (Liters)
150
65
42
300
130mm
85
500
230
142
600
275
172
1000
460
284
900
400
255
Overall Dimensions approx
Height mm
Diameter mm
Weight Kg.
1110
360
95
1290
460
140
1370
615
180
1500
615
200
1610
760
245
1610
615
220
Blast Nozzle Tungsten Carbide lined
Oriffice mm [*Standard size supplied
unless ordered otherwise]
*5
6
*6
5
*8
6, 10
*8
6, 10
*10
8, 12
*10
8, 12
Blast Hose ID (mm)
Blast Hose Length (meter)
Recommended Air Hose ID (mm)
19
5
19
19
5
19
25
7.5
25
25
10
25
32
10
32
32
10
32
Approx Cleaning Eate (Sq. Mtr./Hour)
For guidance only
3 to 4
5 to 9
11 to 15
11 to 15
15 to 19
15 to 19
Compressed Air Requirement at
5.63 Kg./sq. Cm (80psi)
Cubic meter/minute (CFM)
1.27(45)
2.41(85)
3.85(135)
3.85(135)
7.08(250)
7.08(250)
Recommended Abraisive size
range BS Mesh
30 to 80
25 to 80
16 to 80
16 to 80
12 to 80
12 to 80